You have a Destiny!
I ALWAYS HAD A DEEP KNOWING THAT I WAS BORN TO LEAD A MOVEMENT. A MOVEMENT THAT CREATES AND GENERATES POSITIVE CHANGE IN THE WORLD. I KNEW THAT I WAS MEANT TO HELP BRING PEACE, LOVE AND HARMONY TO OUR PLANET AND TO HELP WOMEN RECLAIM THEIR RIGHTFUL PLACE IN HUMAN SOCIETY AND HISTORY.
BUT FOR MOST OF MY LIFE, I'VE PUSHED THAT KNOWING DOWN. I CALLED IT A CRAZY DREAM BECAUSE I HAD NO IDEA HOW I CAN POSSIBLY DO THAT!
WERE YOU LIKE ME SISTER?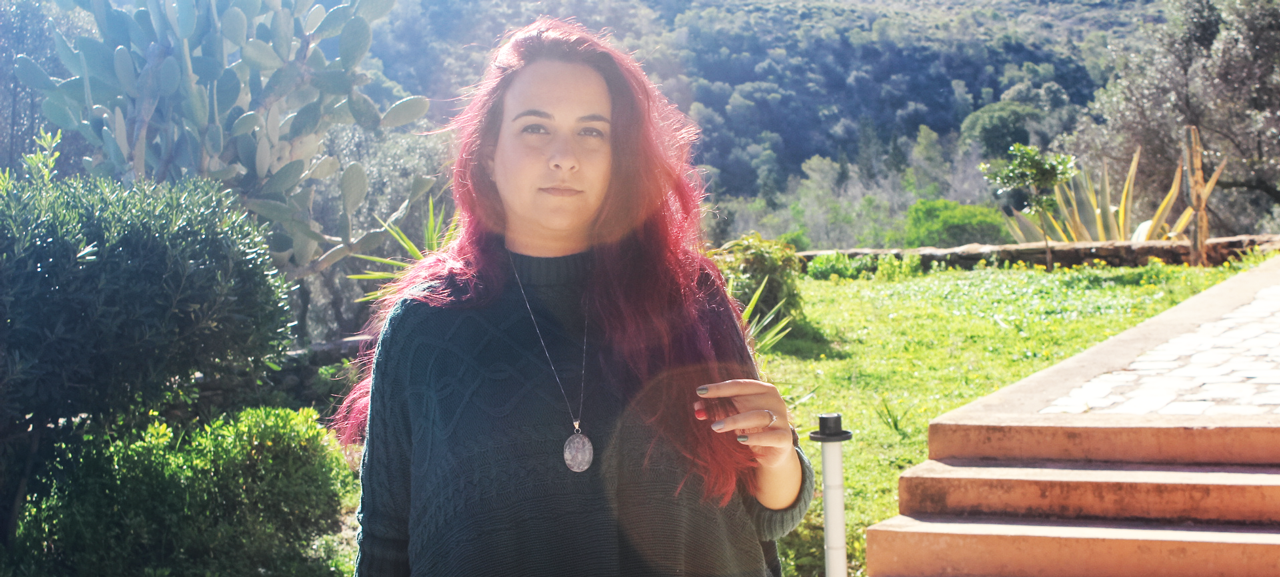 Hi! I'm Dorra Azizi
LET ME TELL YOU MY STORY ..
I grew up in beautiful, sunny Tunisia, a small country on the lower shores of the Mediterranean Sea, a land with a long and rich history and culture. Since my childhood I've been always fascinated by ancient history and mythology.
In my teenage years, I started to feel the call of the Goddess or as like to call her now Mother. I was reading any book I can put my hands on about ancient mythology and the stories of ancient Goddesses. But since I lived in a Muslim country, I couldn't imagine ever finding my way to Her, in a more real way, or that She could find her way to me.
In my early twenties, back in the years 2000's I discovered "the internet". A whole would of new possibilities opened up for me. Her call got stronger as I started searching for Her.
The second half of my twenties was very challenging. My seven years relationship that I've built my entire life and identity around at the time ended, leaving me with a heartbreak I never thought would heal. And that was followed by an emotionally and verbally abusive two year long distance relationship right after I finished my bachelor degree in graphic design.
These two painful experiences resulted in a dark night of the soul that led me to experience a fuller extent of my spiritual awakening.
At the age of 28, I found myself at rock bottom. Having lost all self esteem and all desire in life I felt like I was still breathing but no longer alive. But as they say once you hit rock bottom the only way left for you is up. I'm so grateful for the divine voice within me that kept saying: "Don't give up!"
I didn't give up. I reached out for help and worked with a beautiful spiritual coach who helped me climb up and reconnect to Mother and the the Divine within me. My healing journey felt long but infinitely rewarding. As I pealed the layers after layers of pain, shame and fear I found underneath my true self and my soul gift, slowly reclaiming my Divine Essence.
I've moved from drowning in self hate and wanting to hide from the world to the point of not stepping out of the house for a year to , to accepting myself as I am, finding my calling in life, falling in love again, moving across the ocean to the USA to be with my beloved, getting married to the my amazing husband and having a spiritual business, a temple that supports hundreds of women around the planet in devotion to Mother, the Goddess and to Divine Love.
Right now I live in Palm Springs, California. I enjoy spending most of my day outdoors enjoying the sunlight and warm desert weather and I also love letting my intuition guide me in making some yummy vegetarian dishes for myself and my husband.
I dream of adopting a kitty and traveling the world while serving my soul's mission through my sacred business.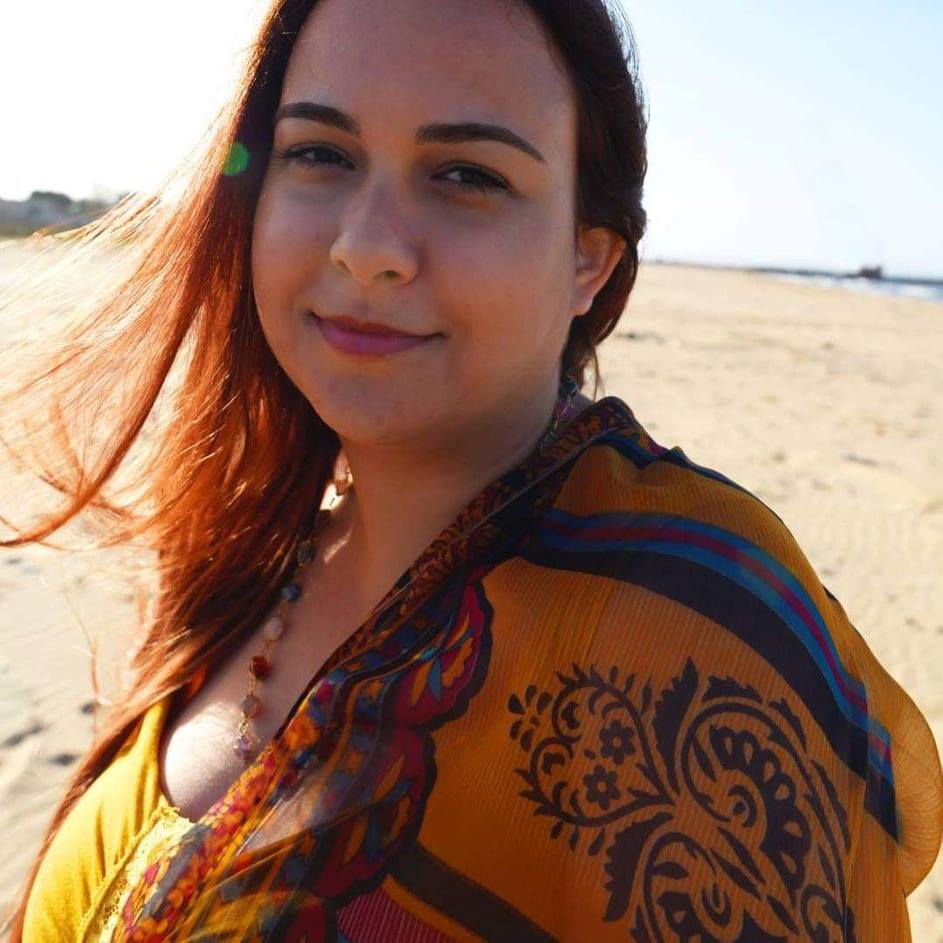 LET ME TELL YOU MORE ABOUT WHO I AM
I'm a Cosmic Rose Star Priestess and Oracle in service to the Cosmic Mother. Part of my soul mission is to bring in ancient teaching from the stars to support the evolution and ascension of humanity and to activate my mystical queen sisters around the planet.
Some of the ways that I serve the temple initiates through are creating strong alchemical containers, catalyzing the remembrances of their own soul missions, and holding space for their initiation.
I guide and support them in blooming and emerging as who they need to be in order to serve their soul missions and play their part in the Divine Plan.
As an empath I'm gifted in sensing hidden vibrations and seeing through the illusions of the ego in order to detect the mental and energetic blocks as well as the different aspects of the shadow in myself and those who seek my services.
As a mystic and an oracle I am naturally connected to other realms and commune with a multitude of multidimensional beings who lovingly offer their guidance and light to support Earth and humanity.
I channel through me the codes of the Mystical Queen from The Seven Star Sisters. They are Ancient Pleiadeans Priestesses who were the first 7 priestesses of Ishtar/Inanna, shared her teachings and served with her during the time that she spent on Earth.
I've built Mystical Queen Temple to bring back Ishtar's Divine Feminine Mystery Teachings, one of the oldest Rose Lineage Teachings of Ascension and Divine Human Mastery. I am serving in the Temple as High Priestess of Ishtar and ascension guide for the women who hold the seed of the mystical queen.
I enjoy empowering women on their spiritual paths to step into their destiny and reclaim their divine essence, and their soul gifts. I work with them on aligning with their soul missions and to stepping into their divine feminine leadership, (heart led leadership) and co-create the new earth.
In my sacred work with my clients I help them activate their unique soul blueprints and codes and clear their energetic blocks that they carry from this lifetime, their past lives and their ancestral lineages. This sacred work allows them step into their power and show up fearlessly in service to humanity and the Divine. 
Following my spiritual awakening, I trained as an energy worker and was certified to practice spiritual reading and healing. In 2016 I started my first soul-based business while continuing to study and further my knowledge through different trainings and certifications in energy work, divine feminine teaching and embodiment, divine feminine leadership and spiritual coaching.
I've helped hundreds of women since then with their healing journey and their spiritual development
My Qualifications:
Energy Worker Certification from WNCS Vibes
Circle Facilitator Certification from Global Sisterhood
Priestess Initiation and 3 Years of Priestess Training with Priestess Presence Temple and Elayne Kalila Doughty, Ordained Priestess of the 13 Moon Mystery School
Coaching Certification – Specializing in Spiritual Coaching from WNCS and Master Coach Ahlem Ben Othman
Leadership Certification from WNCS and Master Coach Ahlem Ben Othman
Self Mastery Training – Sly Class –  with Odyssey of Ascension and Conscious Channeler Roxanne Swainhart
Bachelor of Art in Design and Graphic Advertising from the Architecture and Design College of Tunis (ESAD)
Other Certifications:
Life Coaching and Hypnotherapy Certification from the Academy of Modern Applied Psychology
Life Purpose, Life Story, Art therapy, Spiritual Coach Certification and Group Coaching Certifications from Master Coaches Joeel and Nathalie Rivera and Psychotherapist Libby Seery
# of online video games I played
# of countries I've been to
Business Hours
Mon – Fri 10am-2pm EST
Sat & Sun 6am-12pm EST